Cape Canaveral Air Force Station Relies On SMACNA Contractor For An HVAC Upgrade
When an HVAC upgrade was necessary at Cape Canaveral Air Force Station, a prominent specialty contractor looked toward SMACNA member McDonald Air and Sheet Metal, of Orlando, Fla., to get the job done. Sauer Mechanical Inc., of Jacksonville, Fla., was issued the contract from Lockheed Martin to upgrade the HVAC systems at the Vehicle Integration Facility (VIF) and the Autocoupler building at Launch Complex 41.
The launch complex is the home of the Lockheed Martin Atlas V rocket. The Atlas V program was designed and developed in 1998 in support of the U.S. Air Force's Evolved Expendable Launch Vehicle (EELV) program.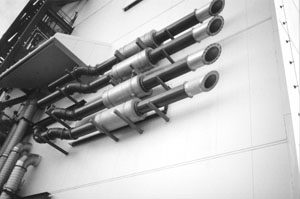 McDonald Air and Sheet Metal Inc., was issued a $300,000 subcontract by Sauer Mechanical to furnish and install all of the Environmental Control Systems (ECS) ductwork for the upgrade. The upgrade involved the installation of silencers for the launch vehicle Environmental Control Systems. ECS ductwork is usually welded aluminum with single or double wall construction. The round ECS ductwork serves to provide conditioned air to critical launch vehicle components during vehicle processing in the Vehicle Integration Facility.
For an upgrade of this magnitude and importance, 120 pieces of ECS ductwork were modified and fabricated for the Atlas V. This required all single and double-wall ducts be TIG welded for precision and leak tested per Lockheed specifications. Then, the duct was sent to Chemko Technical Services, in Mims, Fla., for cleaning. TIG welding is a popular welding process, when high quality, precision welding is required.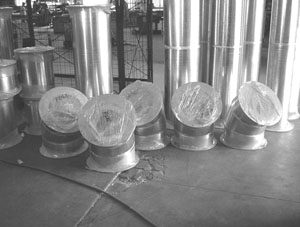 To ensure that the fabrication process was going smoothly as specified by Lockheed, every step of the way was quality control inspected by Jim Tappan of McDonald Air and Sheet Metal. Four welders were then certified to TIG weld the inside and outside of the ECS duct. All of the welding was pre-inspected before testing.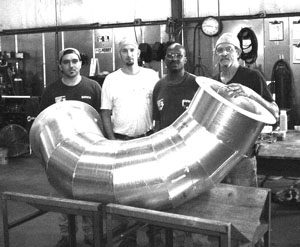 Once Chemko's cleaning process was complete, the duct was sent to Launch Complex 41 for installation. McDonald's foreman along with a crew of four sheet metal workers installed the ECS duct and stainless steel supports.
After the installation was complete everything was then inspected by Lockheed Martin and Sauer's engineers and quality control officers.
With all of the hard work and detailed construction that went into the upgrade, the project was completed on schedule and was operational in time to meet the next launch date.