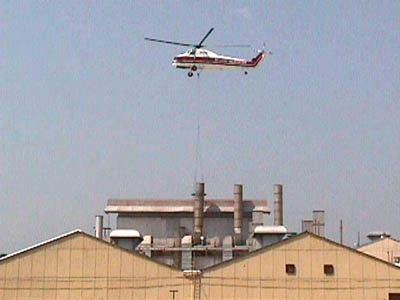 Case/New Holland, East Moline, Ill.
Sheet Metal Contractor: Johnson Contracting Co. Inc., East Moline, Ill.
Johnson Contracting replaced 10 Barry Blower centrifugal fans and inlet ductwork which serve the combine line paint system at the Case/New Holland plant in East Moline, Ill.
The original fans were installed in the mid 1970s and were replaced with 32,000 cfm fans. The $125,000 project required the craftspersons at Johnson to replace exhaust ductwork above the roof level with new duct fabricated from 16 gage galvanized steel. The Johnson Contracting team also provided labor, material and equipment to do the fan replacement portion of the job.
"The location of the fans made it impossible to reach with a crane so a helicopter was the next best option," explained Rich Sullivan, of Johnson Contracting. "The stacks, however, were in good condition and could be reused." The fans and stacks were removed as assemblies via helicopter. The existing stacks were unbolted from the old fans and mounted on the new fans, then set back in place. The project was completed in four weeks during a plant shut-down. The stacks and fans were replaced in one day.