Chimney Project Stretches Contractor's Work To New Heights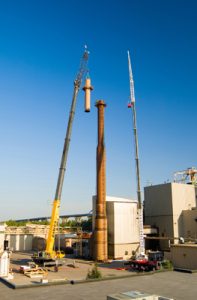 With welding done from a basket perched high on the largest crane in Wisconsin, Tweet-Garot Mechanical Inc. of Green Bay, Wis. recently installed the top 40 feet of a coal-fired boiler stack for the Green Bay Packaging paper mill. At times the work must have seemed like a high-wire balancing act because of the towering heights and tight timeframe involved.
The mill's coal-fired boiler stack had begun to deteriorate, and the top part of the chimney needed to be replaced with a new material so the mill could continue to operate at a reasonable energy cost. As part of this six-week Green Bay Project, Tweet-Garot installed a crow's nest and set up a temporary platform to help with the installation and welding. The stack was installed in one piece, with welding done from a basket on the crane 180 feet high up in the air.
The installation was completed in two and a half days of working around the clock, so the mill could utilize their coal-fired boiler instead of the most costly natural gas boiler. Tweet-Garot used 3/8" and 1/4" plate Corten metal on the stack.