Montezuma Manufacturing, Montezuma, Iowa
Sheet Metal Contractor: Du-Mont Company, Peoria. Ill.
The haze that hung over the automated robotic welding line at this Midwest manufacturing plant was causing a serious air quality problem for the employees of the plant. The owners recognized the need to enclose the welding area to control the fumes and provide better air quality to the plant.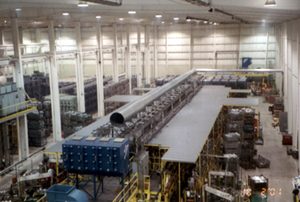 The $450,000 project required the team from Du-Mont Company to design, fabricate and install a 65,000 cfm welding fume collection system using galvanized carbon steel, spiral ductwork and metal decking. "We understood that it would be a challenge to enclose the robot line without interfering with operations of the plant," commented Bob Williams, of the Du-Mont Company.
Using structural steel framing covered with metal decking, the 170-foot-by-40-foot welding area was enclosed with UV-rated clear vertically hanging welding curtains. The exhaust air is collected within the enclosure and at the various exhaust hoods then cleaned by the Torit Cartridge Collector. The clean air is returned to the plant.
"Before the project began, there was a visible haze of fumes in the production area," Mr. Williams explained. "After the system was initiated, the air quality immediately improved. Everyone from the plant manager to the welding line employees visibly noticed the cleaner air."