Nuclear Power Plant, Taiwan
Sheet Metal Contractor: AMS – Preferred Metal Technologies Inc., Burr Ridge, Ill.
Maintaining proper indoor air quality in an industrial setting is an issue of critical importance across the globe.
AMS – Preferred Metal Technologies completed the design and fabrication of 15 air filtration units for a nuclear power plant in Taiwan.
"The project presented an unusual challenge because there were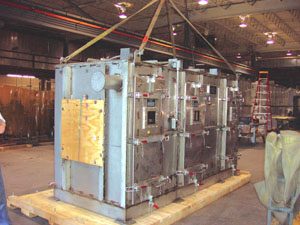 five different unit styles that must be fabricated to meet the needs of various areas of the plant," explained Allen Cutler, project manager.
Designed to meet the strict standards of the American Society of Mechanical Engineers (ASME) nuclear codes, the units ensure a safe environment within the plant by filtering radioactive particulate and gasses from the air. The internal components of the units include moisture eliminators, electric heaters, medium efficiency pre-filters, HEPA filters and charcoal absorbers to remove radionucleides from the air.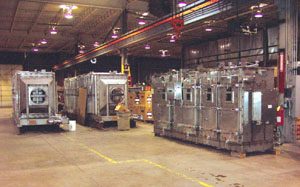 In addition to fabricating the units, the contractor is performing extensive testing on each unit according to ASME standards. Filtration units, internal components and instruments are seismically tested and analyzed to verify they will withstand worst-case pressures and stresses in the event of an earthquake or plant accident. Internal components also receive extensive environmental testing to confirm the units will operate at extreme temperature and humidity levels as well as withstand exposure to high levels of radiation.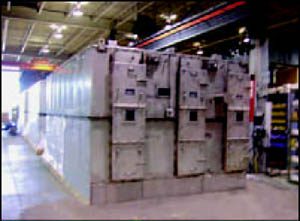 "This project represented close to 32,000 man-hours of labor by our staff of union sheet metal workers, pipefitters and electricians," Cutler said."